$10,000 – GRAND PRESENTING
•Recognition as the Presenting Sponsor of Trans Pride in all Media and Marketing including
Web, Emails, Social Media, Press Releases, etc.
•Three Tables at Capital Trans Pride
•Logo Recognition on Front Cover of Capital Trans Pride Program
•Full-page Back Cover Ad in Capital Trans Pride Program
•Opportunity for Ad Placement in Capital Pride Alliance/Trans Pride e-blasts
•Opportunity to Provide up to 3 Banners to be displayed at the event
•Logo recognition on Stage/Podium
•Logo Recognition on Marketing Materials
•Opportunity to Address the Audience
•Logo on Capital Trans Pride Website
•Recognition on Facebook Page
•Twelve (12) Lunch Tickets
$5,000 – PLATINUM
•Two Tables at Capital Trans Pride
•Full-page Inside Front or Back Cover Ad in Capital Trans Pride Program
•Logo Recognition on Marketing Materials
•Opportunity to address the audience
•Logo on Capital Trans Pride Website
•Recognition on Facebook Page
•Eight (8) Lunch Tickets
$1,500 – GOLD
•One Table at Capital TransPride
•1/2 Page Ad in Capital Trans Pride Program
•Recognition on Marketing Materials
•Logo on Capital Trans Pride Website
•Recognition on Facebook Page
•Four (4) Lunch Tickets
$500 – SILVER
•One Table at Capital Trans Pride
•1/4 Page Ad in Capital Trans Pride Program
•Logo on Capital Trans Pride Website
•Recognition on Facebook Page
•Two (2) Lunch Tickets
$250 – BRONZE
•One Table at Capital Trans Pride
•Logo in Capital Trans Pride Program
•Logo on Capital Trans Pride Website
•Recognition on Facebook Page
•One (1) Lunch Ticket
$100 – SUPPORTER
•Listing in Capital Trans Pride Program
•Listing on Capital Trans Pride Website
•Recognition on Facebook Page
•One (1) Lunch Ticket
INDIVIDUAL DONATION
* Helps provide lunch for all attendees and supports Capital Trans Pride events and activities. Each $10 supports one meal for an attendee.
Please Note: May 10th is the deadline to be included in the Trans Pride printed program.
[formassembly formid=4667606]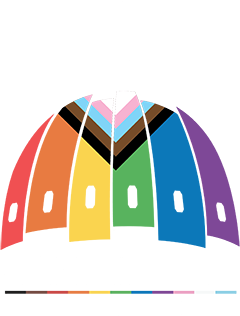 The Capital Pride Alliance, through its stewardship of diverse programming and events, specifically year-round LGBTQ+ Pride festivities centered in Washington, DC and the National Capital Region, serves to celebrate, educate, support, and inspire our multi-faceted communities in order to grow and preserve our history and protect our rights for current and future generations.
Learn More
Capital Pride Alliance
2000 14th ST NW STE 105
Washington, DC 20009
Directions