Organizer, strategist, and performer, Gregory A. Cendana is the President and Co-Founder of Can't Stop! Won't Stop!, a consulting firm of and for people of color, and proud DC resident by way of Sacramento, CA.
Gregory's life's work is dedicated to forging political, cultural, and social change through progressive campaign strategies and organizational development towards the empowerment of people of color.
More About Gregory
Previously, Gregory was the youngest and first openly gay Executive Director of the Asian Pacific American Labor Alliance and Institute for Asian Pacific American Leadership and Advancement. He proudly held positions as the President of the United States Student Association, Chair of the National Council of Asian Pacific Americans, co-founder of the diversity initiative Inclusv, and serves on the board of directors for United We Dream and 18 Million Rising. Gregory also co-authored Asian Americans and Pacific Islanders (AAPIs) Behind Bars: Exposing the School to Prison to Deportation Pipeline, a first of its kind report on the impact mass incarceration and mass criminalization in the AAPI community.
Gregory has spent years cultivating relationships, building coalitions and advocating for the representation, dignity and rights of LGBTQ+ folks and other marginalized communities across the globe. He is also a staunch advocate for immigrants and refugees, including those who are undocumented, and is proud to be a part of the movement for Black lives. Gregory has worked within civil rights, labor, youth, and other movements to push for change and always brings an intersectional lens to his work. While unapologetic about his identity and motivation to dismantle white supremacy, systematic racism, and discrimination—he approaches his work with a smile, positive attitude, and if you're lucky, with a body roll and other Hip Hop dance moves.
Gregory has been named one of Metro Weekly's Next Generation Award recipients, one of Washington DC's most influential 40-and-under young leaders, 30 Most Influential Asian Americans Under 30, DC's Inaugural Power 30 Under 30™ Award Recipients and the "Future of DC Politics." Follow him on Instagram and Twitter: @GregoryCendana
Jesse Garcia grew up in rural South Texas, born and raised in the border town of Brownsville. He was the first in his family to go to college, earning a bachelor's degree and a master's degree in communications.
After graduate school, Jesse was hired by the U.S. government. Throughout his 20-year career, he has worked for agencies promoting commerce, national defense, international development, and anti-poverty programs. On nights and weekends, Jesse has volunteered his time to advance LGBTQ+ civil rights and immigration reform.
More About Jesse
Because of his activism in Texas, the Obama Administration appointed Jesse to the Health and Human Services' Administration for Children and Families (ACF).  Arriving in Washington, D.C., in 2011, he helped start an LGBT employee resource group at ACF and chaired the agency's LGBT taskforce in charge of implementing the Supreme Court's marriage equality ruling in its family and child welfare programs.
In the last seven years, Jesse has volunteered with several DC organizations, including the Gertrude Stein Democratic Club, Latino GLBT History Project, and Stonewall Kickball. He co-founded LULAC Lambda—an LGBT council of the League of the United Latin American Citizens, the oldest and largest Hispanic civil rights organization. This council has allowed Jesse to continue building bridges between the Latinx and LGBTQ communities.  In addition, it has given him the opportunity to volunteer with the DC Center, Fisher House, Food and Friends, Potomac Conservancy, and Capital Area Food Bank. Through LULAC Lambda, Jesse has raised funds for Shrine of the Sacred Heart Food Pantry, Latin American Youth Center, and Whitman Walker Clinic.
When his political appointment ended in 2016, Jesse decided to call the District his permanent home.
Because of the current political climate—which has seen the Latinx and LGBTQ+ community directly criticized and targeted by the Trump Administration, Jesse launched a weekly program in 2017 that showcases LGBTQ+ and Latinx leaders, social justice warriors, and artists. Jesse wants to combat racism with positive images of our community and give our younger generation examples that they, too, can become leaders.
"The Jesse Garcia Show" is a relaunch of his public radio show that ran in 2010-2011 in Dallas, Texas, before he came to Washington, D.C. The new format involves weekly 30-minute podcasts on Mondays.  The show is available on iTunes, GooglePlay, Soundcloud and at jessegarciashow.com.
Patrick moved to the DC area in 1984 and has been working in the hospitality industry for the past 34 years. While employed at the Washington Plaza Hotel in 1987, Patrick's eyes and mind would be opened to the exciting and wonderful world of Leather. This introduction to Mid-Atlantic Leather Weekend and Centaur Motorcycle Club (CMC) left Patrick aroused, fascinated, questioning, lusting at first sight and, yes, a bit confused. Patrick was welcomed by CMC as a groupie, embraced as an associate member, and ultimately given the honor of full membership.
More About Patrick
Later in 2003 Patrick entered and won the Mr. Double L Leather contest in Rehoboth Beach. What a rush. Who would have thought that – despite frequent moves around the country, an early childhood in England, and a frustrated puberty in West Germany – an Indiana boy born into an Air Force family would compete in a Leather contest in Rehoboth Beach and become as Mr. Marcus once pronounced, "a jewel in the crown of the Washington DC Leather Community"?
Patrick has held various offices within the CMC and has organized and led the Mid-Atlantic Leather Weekend for the past 12 years. Patrick has also led charitable efforts, such as the Scarlett's Bake Sale, and a number of charity events produced by CMC. Patrick's passion to give back, and his unyielding work ethic, have helped raise hundreds of thousands of dollars for numerous LGBTQ+ non-profits throughout the DMV. He has also helped to engage the leather community into the wider LGBTQ+ community. He is the ultimate "behind the scenes" person – the one every organization needs but who rarely receives the proper accolades.
Jorge Hernandez, a Guatemalan native, has been involved in the Washington, Maryland, and Virginia (DMV) Latinx Community for the past six years as a performer, a leader, and an activist. He created the character of Sylvanna Duvel, a fierce and beautiful drag queen. Sylvanna opened the doors for Jorge to embrace his talents and express his/herself freely. Sylvanna represented La Clinica Del Pueblo Youth Group, Centro Empoderate, as the first Ms. Empoderate Drag in 2011. During that year, Sylvanna volunteered as a health educator informing youth about the importance of getting tested and of taking steps to prevent HIV.
More About Jorge
Sylvanna also paved the way for other youth to represent La Clinica Del Pueblo's Youth Center through the art of drag. Sylvanna held the Title of Miss Centro America in 2012 from The Carrillo Production LLC. Throughout her years of involvement and leadership in the Latinx community in the DMV, Sylvanna has been very active volunteering at various events, such as helping LULAC and the Latino History Project with fundraising. She has also volunteered as a performer at the Youth Pride for three consecutive years to promote self-acceptance among young people. Sylvanna Duvel is the youngest event and club promoter in the DMV, bringing to the area the first ever Latino Drag Brunch held at Haydees Restaurant beginning in 2017. She also brought the Latinx presence to Dupont Italian Kitchen Bar and the Green Lantern in order to create an environment where the Latinx culture could be embraced and celebrated. Sylvanna Duvel has been a performer at Rumba Latina at Cobalt for five consecutive years where she started to use her voice to fight the stigma against HIV u ndetectable people and to bring awareness about HIV treatment. Sylvanna now holds the Title of Miss Majestic 2018 from the Carrillo Production LLC and is a co-founder, co-promoter, and host for Sassy Drag Brunch at Bar Roubaix in Columbia Heights. Through her charisma when performing, volunteering at events, or promoting a club or event, Sylvanna constantly encourages her fans to love and express themselves freely through any form, artistic or otherwise.
Karen works as a Safety Officer for the federal government. On May 19, 2018, Karen was a speaker on TEDx Asbury Park, NJ Live Show about her life in a speech entitled "40 Years and Wandering No More."  In April 2017 at the Black Trans Advocacy Conference she received the 2017 Monica Roberts Advocacy Award. Karen was selected in January 2017 by LGBTQ Nation as one of the "Top 50 Successful Transgender Americans You Need to Know." She volunteers with the U. S. Veteran's Reserve Corps as Sergeant First Class, Unit Force Protection, and the Chaplain's Unit as a Chaplain's Assistant. Previously, she volunteered with the DC Military Reserve as a Staff Sergeant and the Chaplain's Unit as a Chaplain's Assistant.
More About Karen
Karen retired from the Maryland Defense Force under the Maryland National Guard as a Staff Sergeant with Force Protection, the Chaplain's Unit as a Chaplain's Assistant, the Honor Guards, and the Morale, Welfare, and Recreation (MWR) unit. She has been doing volunteer work with the American Red Cross for the National Capital Region since 2009 on the Disaster Action Team (DAT). For several years, she has been volunteering with Community Emergency Response Team (CERTs) in Prince George's County, MD, and also with the Medical Reserve Corps. She currently sits as a board member with the Retired Senior Volunteer Program (RSVP) in Prince George's County, Maryland. Karen use to serve on the board for DC Metro PFLAG working with the Transgender Community. She currently is the chapter president of the Transgender Veterans Support Group (TVSG)—Maryland. Karen believes whole heartedly in the importance of giving back to her community.
Linda serves as Board Member and Treasurer of DignityUSA and Co-Leader of the Transgender Support Caucus. She has authored documents on Catholicism and Gender Identity/Theology and Recommendations for Dignity Chapters and Other Catholic Churches to Provide a Welcoming and Inclusive Environment for Transgender Persons and Their Families. Linda has provided her story to several bishops who were signatories to an open letter entitled Created Male and Female, and challenged them to understand what it means to be transgender and how one's faith can actually be enhanced by living in the gender with which one truly identifies. Linda led a workshop at DignityUSA's national conference in July 2017 entitled Trans Catholic Voices, where the panelists shared their stories and faith journeys, and she recounted both biblical passages and recent Catholic Church pronouncements regarding gender theory.
More About Linda
Linda is also an active member of Dignity/Washington, currently serving on the Committee on Church Integration, and was the recipient of a Community Service Award in 2017.
Linda has participated in four volunteer trips with Global Volunteers, including delivering lectures on Transgender 101 and her personal story in Costa Rica and Appalachia in West Virginia. In the spring of 2017 her volunteer efforts were profiled in an article in SAGE magazine, an organization that provides support and advocacy for LGBTQ+ elders and partners with Global Volunteers. She also volunteers locally with the Manna Food Center, assisting with food boxing and sorting for local needy families.
Linda supports through charitable giving over 30 organizations annually. Locally these include Casa Ruby, the community center and shelter for the transgender community, the National Center for Transgender Equality, the Human Rights Campaign, SMYAL, Capital Area Food Bank, Manna Food Center, House of Ruth, Bread for the City, CAMP Rehoboth, Marine Toys for Tots Foundation, Food for the Poor, and Central Union Mission.
In addition to her three adult children and three grandchildren, Linda sponsors two young girls in India through Unbound.
In 2013 Linda was voted Capital Queer Prom Queen.
Linda had a long career in finance and accounting for DC-based companies. She holds a BS degree in Commerce from Washington & Lee University, where she was inducted into the academic honor societies of Phi Beta Kappa and Beta Gamma Sigma.
Bianca Humady Rey was born and raised in the Philippines. She moved to the United States in the fall of 1998, and began working in the healthcare field in 1999. She is currently a Facilitator/Trainer at Kaiser Permanente Mid-Atlantic States Region.  Bianca is also one of the chairs for Kaiser Permanente's KP Pride Business Resource Group both in this region and nationally.
More About Bianca
Bianca's passions include a devotion to the normalizing and visibility of the transgender community. She has volunteered with the Capital Pride Alliance as an Executive Producer for Capital Trans Pride for the past three years. In 2018, Bianca was appointed as Chair for Capital Trans Pride.  Bianca is also one of the Collective Hosts at Inside OUT Radio on WPFW 89.3 FM where she discusses issues surrounding the transgender community.  Bianca was recognized at one of Tagg Magazine's Enterprising Women in 2017.  Bianca has also worked with Equality Virginia's Transgender Advocacy Speaker Bureau Program as a speaker/facilitator for three years.
Pixie Windsor was born and raised on the eastern shore of Maryland, studied art history in college, and moved to DC in 1985.  Invigorated by DC's diversity and creative atmosphere, Windsor explored the DC drag and burlesque scene, recovery at the Triangle Club, politics and marches around the AIDS crisis, and all the diversity and strength that the city had to offer. After a few years in the restaurant business, she decided to open a tiny 500 square foot vintage furnishing store in Adams Morgan in 1997. Her circle of friends and customers became wider and more diverse through those she met in her shop, including restaurateurs, musicians, politicos, diplomats, designers, new folks in town, college students, writers, actors; she also enjoyed strong support from women, entrepreneurs, and the LGBTQ+ community.
More About Pixie
Windsor moved to 14th street NW to a huge 4000 sq ft space in 2008, just as the neighborhood was changing. She received tremendous support from the neighborhood and especially from the LGBTQ+ community. She considers herself a southern "hostess of furnishings" and stocks the place with an ever changing selection of fun, functional, well priced, and fast moving inventory. From the fresh baked cookies at the door to the smiles and laughter of the staff (and cute delivery staff!) Miss Pixie wants everyone to feel at home.
As a way to give back to the community that gives her so much, Miss Pixie supports Casa Ruby, N St Village, Story District, Food Rescue US, Martha's Table, Whitman Walker Health, Capital Pride, HRC, Central Mission, DC Kitchen, SMYAL, We Are Family, and lots of others!  Education and support about HIV, breast cancer, homelessness, transgender struggles, and other issues that affect the LGBTQ+ community are very important to Windsor.
MW Magazine, the Washington Blade, and Tagg Magazine are the mainstay of her advertising efforts, because she believes that these publications bring important LGBTQ+ information to DC and must be strongly supported.
Windsor was recently named one of Tagg Magazine's entrepreneur women of 2018. She hosts fundraisers, movies, art exhibits for her staff, craft classes, plays, and pop ups for local businesses.  She has even had receptions, weddings, and a memorial at Miss Pixie's. "Do all you can, whenever you can, with whatever you have" is her motto when it comes to community.
Photo Credit: Denis Largeron
Denis Largeron (Due-Knee Lar-Ja-Ron) creates custom photography for fabulous people.  Specializing in weddings and events, Denis fuses a photo-journalistic style with editorial flair and a passion for enlightening the emotion of the moment. Learn more at www.denislargeron.com.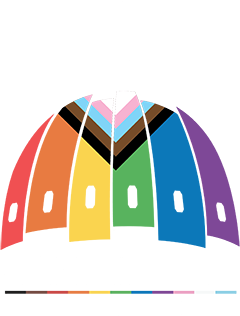 The Capital Pride Alliance, through its stewardship of diverse programming and events, specifically year-round LGBTQ+ Pride festivities centered in Washington, DC and the National Capital Region, serves to celebrate, educate, support, and inspire our multi-faceted communities in order to grow and preserve our history and protect our rights for current and future generations.
Learn More
Capital Pride Alliance
2000 14th ST NW STE 105
Washington, DC 20009
Directions