Each year, the Capital Pride Alliance honors outstanding individuals, leaders, and activists in the National Capital Region who have furthered causes important to the LGBTQ+ community. Join us, as we collectively celebrate the incredible community honorees who tirelessly contribute to our collaborative advocacy, outreach, education, and programming in support of our intersectional community.
Honorees will be recognized at The Capital Pride Honors on June 2nd at 7pm.
Ticket includes hors d'oeuvres and two (2) drink tickets (alcoholic or non-alcoholic), games and enjoyment.
Each ticket level has a limited number of tickets available.
ASL  will be provided.
$25 – Ally
$40 – Protestor
$60 – Changemaker
*For fair accessibility, we ask that the lower ticket prices are reserved for those that are most in need in our community.
*No refunds or exchanges. All proceeds will go to Capital Pride Alliance and the Pride 365 Fund.
About Edward
I'm Edward Daniels and here's my story, in a nutshell. When I was 16, I landed my first job at my local radio station where I developed an appreciation and understanding of all types of music, mostly pop and oldies.
I entered the University of Virginia as a pre-med student and, after falling in love with musical theatre, graduated with a degree in Philosophy and moved to Washington, DC, to pursue a career in theatre and film. Like most artists, I found myself waiting tables in order to supplement my career. My work in the local bar scene led me to hosting karaoke, producing several events which were featured in the Washington Post, and meeting lots of bachelorette parties and, at one point, Bob Dole. After numerous requests to perform at weddings and private events, Scorpio Entertainment was born.
Since 2005, I've played well over 600 events, in over 300 venues, from coast-to-coast. As an emcee, I've been proud to have been the voice of over 275 road races including the Air Force-Navy Half Marathon and the inaugural DC Bike Ride.
I believe that there is a science and art in what I do and how I do it. Every single event should be unique, memorable, and remarkable. That's my goal and the mission of the company and team that I continue to grow.
Paving the Way
The Paving the Way Award acknowledges an individual who or organization that has provided exemplary contributions, support, and/or advocacy that has impacted the LGBTQ+ community, and whose leadership has inspired continued progress.
Admiral
Rachel L. Levine, MD
Admiral Rachel L. Levine serves as the 17th Assistant Secretary for Health for the U.S. Department of Health and Human Services (HHS), after being nominated by President Joe Biden and confirmed by the U.S. Senate in 2021. As Assistant Secretary for Health, ADM Rachel Levine fights every day to improve the health and well-being of all Americans. She's working to help our nation overcome the COVID-19 pandemic and build a stronger foundation for a healthier future – one in which every American can attain their full health potential. ADM Levine also is the head of the U.S. Public Health Service Commissioned Corps, one of the eight uniformed services. 
After graduating from Harvard College and Tulane University School of Medicine, ADM Levine completed her training in Pediatrics and Adolescent Medicine at the Mt. Sinai Medical Center in New York City. As a physician, she focused on the intersection between mental and physical health, treating children, adolescents, and young adults. ADM Levine was a Professor of Pediatrics and Psychiatry at the Penn State College of Medicine. Her previous posts included: Vice-Chair for Clinical Affairs for the Department of Pediatrics, and Chief of the Division of Adolescent Medicine and Eating Disorders at the Penn State Hershey Medical Center.
More About Admiral Rachel L. Levine, MD
 In 2015, Pennsylvania Governor Tom Wolf nominated ADM Levine to be Pennsylvania's Physician General and she was subsequently unanimously confirmed by Pennsylvania's state Senate. In March of 2018, ADM Levine was named Pennsylvania's Secretary of Health. During her time in state government, ADM Levine worked to address Pennsylvania's opioid crisis, focus attention on maternal health and improve immunization rates among children. Her decision to issue a standing order for the anti-overdose drug, Naloxone, saved thousands of lives by allowing law enforcement to carry the drug and Pennsylvanians to purchase it without a prescription from their doctor. 
ADM Levine is a member of the National Academy of Medicine and a Fellow of the American Academy of Pediatrics, the Society for Adolescent Health and Medicine, and the Academy for Eating Disorders. She was also the President of the Association of State and Territorial Health Officials. In addition to her recent posts in medicine and government, ADM Levine is an accomplished speaker and author of numerous publications on the opioid crisis, adolescent medicine, eating disorders, and LGBT medicine.
Super Hero
The Capital Pride Super Hero Award recognizes additional significant and important contributions to the LGBTQ+ community provided by a past Capital Pride Hero.
Earline is a longtime resident of Washington, D.C., where she has worked in local LGBTQ advocacy for over 35 years. She played an essential role in challenging systemic abuses against transgender sex workers by police and in prisons, and has helped countless people through illness, homelessness, family rejection, poverty, and violence. As Earline herself has noted, she has lost over 400 members of DC's LGBTQ+ community close to her and her work. 
Budd began her notable career in 1987, when she was kicked out of the Kalorama Road Skating Rink under the business's ban on "crossdressing." Budd successfully filed a complaint with the DC Office of Human Rights, claiming that the skating rink had clearly discriminated against her as a transgender person. OHR agreed, distributing the maximum charge of $400 from the skating rink to Budd. Not only did the skating rink reverse the policy, but they also issued Budd a handwritten letter of apology. 
More About Earline Budd
Budd went on to support local organizations during the height of the AIDS crisis in the 1980s, working with the Inner City AIDS Network. Budd fought crossdressing bans across the District, including within the DC Department of Corrections. She successfully ended a crossdressing ban enforced against visitors to DC prisons and jails including Lorton Correctional Facility, where she herself was once held. She ended the ban while working at Transgenders Against Discrimination in the District (TADD), founded by D. Curry and headquartered on L Street SE. 
Budd continued to fight for transgender people in the District, eventually forming Transgendered Health Empowerment in 1996, providing life-saving direct services and harm-reduction work to the transgender of community in DC until its closing in 2013. 
From 2009 to 2012, the District experienced a rash of anti-transgender violence. Ty'lia Mack was murdered on the 200 block of Q Street NW in 2009. Lashai McLean was shot to death in Southeast DC in 2011, months before another transgender woman reported being raped in a DC shelter. Deoni Jones was stabbed to death in 2012, resulting in a vigil of over 200 people led by Budd and other regional advocates. In July of 2013, at least three transgender women were injured during violent attacks. 
Budd was at the forefront of the response to this violence, putting pressure on the Metropolitan Police Department and the Mayor's Office to respond to the crisis with due diligence. She was a regular sight at vigils, and frequently led efforts to lay those lost to violence to rest. In 2012, Budd was sworn in as a member of the DC Human Rights Commission thanks in part to her work to respond to the crisis. 
Today, Budd continues to serve as a leader for the transgender community as a Non-Medical Case Manager at HIPS, a direct services organization now located in Northeast DC. Most recently, Budd led a vigil for Ashanti Carmon, a 27-year-old transgender woman shot and killed just outside of DC in Prince George's County, as well as the fundraising efforts for her funeral. 
Heroes
The Hero Award recognizes individuals who have furthered the causes important to LGBTQ+ community in the national capital region. These heroes have brought about positive changes to our lives and our community.
About Abdur-Rahim Briggs
Abdur-Rahim Briggs graduated with a Bachelor of Arts in Sociology with a Minor in Public Administration from California State University at Bakersfield in 1991. With 29 years of Community Service and as Executive Board President of Project Briggs, Inc., he is no stranger to community involvement. His philanthropic endeavors were heavily influenced by the late Roy W. Roberts, II, Former Executive Director of The Watts/Willowbrook Boys & Girls Club while growing up as a youth in South Central Los Angeles, California, where he was named "Youth of the Year" in 1986 by the Watts/Willowbrook Boys & Girls Club Board of Directors. 
After completing his undergraduate studies at California State University at Bakersfield, he relocated to Washington, D.C., in 1994 and began performing volunteer work for organizations such as Us Helping Us, People Into Living, Inc., where he received The Marvin E. Young Volunteer of the Year award in 2001, the Spirit of Light Award from Mascara, Inc. in 2005, Trailblazer Award from InCrowd International, Inc. in 2008, Inner Light Ministries Community Service Award in 2010, the Alston-Gillard Community Service Award in 2012, the GoodLife Empowerment Award in 2013, the Welmore Cook Award from DC Black Pride in 2014, the Barbara Lundy Thomas Service Award in 2014 and the Unsung Hero Award from Joy Baltimore, Inc. in 2018 
During his 29 years of community work, he's served as Founder and Board Member of the Ummah Endowment Fund (2002-2008), President-CEO for Al Sura, Inc. (2008-2016), and President-CEO for Project Briggs, Inc. (2016-Present). 
In other Professional Leadership roles, he's currently serving as a Board Member and President of the Board of Directors for the Greater Washington Association of Records Managers & Administrators (ARMA) from 2009-2010 and 2019 – Present. He received the Chapter Leadership Award in 2010 and the Rita Holt Chapter Member Of The Year for 2009 & 2013. He was actively involved with The ManDate (a community-based group) and served as a Board Member for the Wanda Alston Foundation, served as a voting member of the Gertrude Stein Club, served as Commissioner on the Mayor's Advisory Committee to the Office of Lesbian, Gay, Bisexual, Transgender, and Questioning (LGBTQ) Affairs from 2016-2018, appointed as Commissioner to the Commission on African-American Affairs (COAAA) in 2019 and currently serves as Chairman for the Ward 8 LGBTQIA+ Commission for Ward 8 Councilmember Trayon White, Sr. 
About Nancy Cañas
Nancy Cañas serves as the President of the Latinx History Project, which is strategically located in Washington D.C. The Latinx History Project has always been a connecting point for our fellow Latinx LGBTQ organizations. While we are a small grassroots organization ourselves, we have stepped up to answer the calls for help from our community in times of need. Since the start of the COVID-19 pandemic, we have raised over $150,000 to help support local Latinx LGBTQ organizations across the U.S. and abroad. These funds have gone towards feeding, housing, and providing financial relief to those most vulnerable among us — specifically those in our community who are undocumented. 
About Ben Rosenbaum
Ben Rosenbaum was born and raised in Pensacola, Florida. A graduate of the University of Florida, he came to Washington, DC after working on the successful campaign of Kirsten Gillibrand to the House of Representatives in 2006. Ben spent nearly 15 years on Capitol Hill working for then Congresswoman, now Senator, Gillibrand and Congresswoman Dina Titus of Las Vegas, Nevada, where he served as Deputy Chief of Staff and Legislative Director. Raised in a family that believed in giving back to the community, he has been active in DC's queer and Jewish communities serving in various leadership roles with the Jewish Federation of Greater Washington. In 2022, Ben was recognized in the inaugural class of the Jewish Federation of Greater Washington's "Capital Chai" honorees, recognizing 18 leaders under 40 who are committed to making the world a better place. For nine years, Ben served as chair of Nice Jewish Boys DC, a social organization for gay, bi, trans, and queer Jews. In this role Ben oversaw many new and innovative programs including the annual Mr. Nice Jewish Boy Pageant, the NJB Shabbaton Retreat Weekend, and popular NJB Cook-Off series.
About Shi-Queeta-Lee
Shi-Queeta-Lee started out in small-town Gretna, Virginia but now resides in Washington, D.C., where she serves as a premiere drag queen illusionist. She presents the dazzling revue: "A Drag Salute to Divas & Devos." She is also known for her amazing impressions of music legends such as Diana Ross, Tina Turner and Mary J. Blige. 
 
Enter the magical world of illusion and be mesmerized by your favorite entertainers of all time in pop/soul music, television, film and Broadway, all replicated by DC's very best and brightest male and female impersonators. Shi-Queeta Lee has been seen on NBC's "America's Got Talent" (Season 4), ABC's Ugly Betty, The Wire, Drag City: DC, Verizon In The Know "Behind the Drag." She was the very first drag queen to perform at The White House; she also co-hosted in–house the NBA Washington Wizards, performed at the halftime show for the WNBA Mystics, and was the face of the Washington Spirit's Pride Night Out. Don't miss the glitz and spectacle of a night sure to leave you completely amazed! 
Breaking Barriers
The Breaking Barriers: Community Impact Award acknowledges an individual or organization who has demonstrated a significant impact to the LGBTQ+ community at either the local or national level and who has helped eliminate barriers for social, personal, or professional growth of the LGBTQ+ community.
About Drag Story Hour DMV
Drag Story Hour celebrates reading through the glamorous art of drag. Our DMV chapter creates diverse, accessible, and culturally-inclusive family programming where kids can express their authentic selves and become bright lights of change in their communities. We envision a world where kids can learn from LGBTQ+ stories and experiences to love themselves, celebrate the fabulous diversity in their communities, and stand up for what they believe in and each other.  
D'Manda Martini, Mx. Bella, Charlemagne Chateau, and Tara Hoot are all regular storytellers with Drag Story Hour DMV. D'Manda Martini is a former educator who is passionate about encouraging literacy, empathy, and a sense of community. Through DSH, she endeavors to provide positive representation for all children, but especially those who are LGBTQIA+ or in an LGBTQIA+ family. Mx. Bella is a non-binary drag queen, singer, mentor, and educator. They love to incorporate Mandarin lessons into their storytimes and encourage children to express themselves through song and dance. Tara Hoot is a campy queen who wants to make the world a better place–one smile at a time! As an educator for the last 25 years, helping children find joy and acceptance is one of her biggest goals. Charlemagne Chateau's involvement with DSH has been a natural outgrowth of her work as an educator. She believes passionately in creating safe, nonjudgmental spaces for children to explore identity. 
The National LGBTQ Task Force
About The National LGBTQ Task Force
Celebrating its 50th anniversary in 2023, The National LGBTQ Task Force advances full freedom, justice and equality for LGBTQ people. We are building a future where everyone can be free to be their entire selves in every aspect of their lives. Today, despite all the progress we've made to end discrimination, millions of LGBTQ people face barriers in every aspect of their lives: in housing, employment, healthcare, retirement, and basic human rights. These barriers must go. That's why the Task Force is training and mobilizing millions of activists across our nation to deliver a world where you can be you. 
The Task Force has been the progressive voice in the LGBTQ community and the LGBTQ leading voice in progressive causes for five decades. From the annual Creating Change conference (now 3 years strong) to its groundbreaking intersectional work in the LGBTQ community and influence in progressive circles that brought in LGBTQ issues, to national campaigns like Queer the census and Queer the Vote, the Task Force has been one of the most intersectional, diverse and powerful LGBTQ organizations, since its inception in 1973. From lobbying the American Psychiatric Association to remove homosexuality as a mental illness to leading repeal efforts around "Don't Ask, Don't Tell," to making sure we're counted in the Census, the Task Force has lived at the intersection of advocacy and organizing for 50 years. 
The Bill Miles Award for Outstanding Volunteer Service
The Bill Miles Award for Outstanding Volunteer Service acknowledges exemplary contributions to the Capital Pride Alliance, its programs,  initiatives or other Pride sponsored activities.
Brandon Bayton has been a resident of Washington, DC for nearly 24 years and began volunteering for Capital Pride Alliance in April 2022. His service to the LGBTQ+ community comes from leading Federal contracts that support health and DEI initiatives.
Brandon is a passionate consultant and advocate for the renal health community. He was diagnosed with end-stage renal disease (ESRD) in 2003 and has since undergone two kidney transplants, with his most recent on February 27, 2019, at MedStar Georgetown Transplant Institute (MGTI).
More About Brandon Bayton
Brandon was recently appointed to serve a three-year term on the Organ Procurement and Transplant Network's (OPTN) Minority Affairs Committee. OPTN is the national organization responsible for the acquisition and distribution of organs.  He is a member of the University of Manitoba's Sexual Orientation & Gender Identity (SOGI) Advisory Board and a consultant and SME for Centers for Medicare and Medicaid Services'(CMS) ESRD Network 5's Patient Advisory Committee (PAC) managed by Quality Insights. Brandon is an active patient ambassador and subject matter expert (SME) for the National Kidney Foundation, American Kidney Fund, Infinite Legacy, and the Coalition for Supportive Kidney Health (CSCK). He is a former member of the American Society of Transplantation (AST) Transplant Community Advisory Council (TCAC) and was the first patient advocate to serve on AST's public policy committee.
Brandon attended Washington and Lee University, in Lexington, VA, and majored in political science and technical theater. Brandon specializes in public relations, marketing, and strategic business development. He is involved in the District of Columbia's events, lifestyle and restaurant industry. Brandon is a passionate advocate for social change, and keen on addressing the disparities that exist in our society. Brandon enjoys amateur photography, is a bit of a foodie, and loves to indulge in science fiction and technology.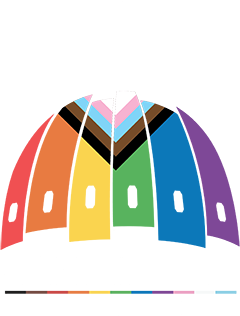 The Capital Pride Alliance, through its stewardship of diverse programming and events, specifically year-round LGBTQ+ Pride festivities centered in Washington, DC and the National Capital Region, serves to celebrate, educate, support, and inspire our multi-faceted communities in order to grow and preserve our history and protect our rights for current and future generations.
Learn More
Capital Pride Alliance
2000 14th ST NW STE 105
Washington, DC 20009
Directions