MUSIC IN
THE NIGHT

Monday, October 7, 2019
Doors: 6:30pm
Showtime: 8pm
Hamilton Live, 600 14th St NW
Peppermint: Everyone's Favorite Flavor
Peppermint is a trailblazing actress, singer, reality star, and activist who defies limitations. A longtime key figure in queer nightlife, Peppermint's star rose thanks to her smashing success as the first out trans contestant on Rupaul's Drag Race where she finished as runner-up in one of the series' most-talked-about finales. Soon after, her talent led her to become the first trans woman to originate a principal role on Broadway in the hit musical Head Over Heels.
As an activist, Peppermint has raised six-figure sums for prominent LGBT rights groups, partnered with the MAC Cosmetics AIDS Fund and is involved in the HIV Vaccine trials network. She is particularly concerned about the challenges faced by transgender and non-binary people in today's political climate and takes every available opportunity to speak at universities and to various communities on the issue.
Recent projects include an appearance on Ryan Murphy's Emmy-nominated series "Pose" and an upcoming role on the new Fox scripted drama "Deputy" She is currently recording her fifth studio album. and looks forward to breaking new ground and being a positive voice during troublesome times.
Jon Richardson is a singer, songwriter, multi-instrumentalist, and piano bar performer based in Provincetown, Cape Cod.
Today, Jon maintains a full-time performing schedule across New England and beyond. Since 2017 he has been a featured performer at The Front Porch in Ogunquit, Maine and at Tin Pan Alley in Provincetown, Massachusetts. This past winter, Jon accepted a position to be one of the piano bar performers at Provincetown's premier entertainment venue, the Crown and Anchor. He was thrilled to work at the Crown since it's the long-time musical home of his friend and mentor, Bobby Wetherbee. Jon's piano bar performances are 100% sing-along and he has developed a robust following for his command of various musical genres and his mixing of Broadway and popular song.
In addition to over 160 performances per year, Jon is also an accomplished songwriter and producer. He has released two albums of completely original music (Tonic in 2016 and When I Left in 2019) and he also manages a band, Tin Planes, which released its first record, Live From the Bridge, at their July show in in Kennebunkport, Maine. Jon also collaborates with Peter Donnelly, a singer-songwriter also based in Provincetown. In September of 2019, Jon and Peter opened for Audra McDonald at her show in Provincetown.
Jon has his bachelor's degree in history from Grinnell College in Iowa and his master's degree in musicology from New England Conservatory in Boston.
Willie is overjoyed to be performing in tonight's Cabaret! Regional credits include: Keegan theatre: American Idiot, As you Like It , Hands On A Hardbody Short North Stage: A Chorus Line (Richie) Olney Theater Center& Round House Theater: In The Heights, Imagination Stage: Looking for Roberto Clemente. Tent Theatre: All Shook Up and Shenandoah Summer Music Theatre: The Wiz (Tinman) and Aida (Mereb) in 2011 Willie Received his BFA in Musical Theatre from Shenandoah Conservatory in Winchester VA and is a proud native of Arlington, VA.
Larry was a featured Singer at La Ti Do Music and Spoken Word Cabaret, in July of 2018. He has sung both professionally and as a regular vocalist in locally. Currently a board member at large for Dominion Stage of Arlington he also performs regularly at La Ti Do. He has performed both in Washington DC and NYC. He has been seen in local productions at, Little Theater of Alexandria, Dominion Stage, St Marks Players, and Aldersgate Community Theater. He would like to thank everyone involved in this Capital Pride event for the chance to perform and share his journey.
A Washington D.C. native, William dancing, singing, and playing his way through the Maryland and DC area. A member of the Outstanding Voices of DC Cabaret group and the Gay Men's Chorus of Washington DC. William has been a singer at the Bethesda Blues and Jazz Club for the Edith P. Wright Breast Cancer foundation, was a featured dancer and ensemble member for the Victorian Lyric Opera Company, and has performed as a pit musician in Beauty and the Beast, Crazy for you, Sweeney Todd, and many more. Currently William is finishing his degrees in French Horn performance and Music Education at the University of Delaware under the direction of Dr. John David Smith. He is very excited to participate in Capital Prides' Music in the Night!
Tiffany Lyn is a singer and actress native to the D.C. Metropolitan area. She has performed at many events and in many shows including For Colored Girls, Ruined and A Piece of my Heart at Prince George's Community College's Hallam Theatre, Outstanding Voices of D.C. Cabaret Series as a vocalist, an ensemble member at Silver Spring Stage and has performed at The Kennedy Center. She is also an alumni performer with LaTiDo, has performed on the Capitol Stage at the Capital Pride Festival, and is returning as a performer for Music in the Night. While performing is one of her passions, she is also Chair of the Capital Pride Parade and a pivitol voice for the organization.
Don Michael is the Co-Founder and Executive Artistic Director of LA TI DO Productions where he produces, hosts, and participates in cabarets, concerts, and events in DC, New York City, Los Angeles, his hometown of Pittsburgh and beyond. Don Michael holds a B.A. in Musical Theatre & Journalism, and a M.A. in Strategic Communication from American University. In 2020, he will make his feature film debut in Nanay Ko alongside Paolo Montalban of Whitney Houston's Cinderella.
Transcending expectations and bending genres, Alan Michael's passion for music is like none other. As one of music's most distinctive voices and songwriters, Alan Michael is developing his own unique style by taking a tirelessly independent route. "To perform in front of a crowd that came to dance, sweat, love, scream, cry, and live inside the music is all I want to do with my life" Born and raised in Arlington, VA, Alan Michael has garnered the attention from some of music's top influencers. In 2011 he sarted releasing acapella covers on his Soundcloud, which caught the attention of Dev Hynes. Hynes invited Alan Michael to perform with him in Brooklyn, and since then, Alan Michael has performed alongside artist such as DAWN, Kindness, and Brandy.
Patty Pablo is a non-binary lesbian actor, singer, and writer who has previously performed in the D.C. 2018 Queer Festival in Fantasy Roadtrip as Rain and the 2019 Capital Pride Honours event. They have also been seen in Into the Woods as Little Red Riding Hood, Natural Causes as Celia Bryce, and most recently in Theatre Prometheus' production of Liz Duffy Adam's Or, as the ukulele-playing narrating Musician. They would like to thank Don Mike for all the constant & amazing opportunities and for his confidence in their talents, and their partner Charlie for her endless love and support.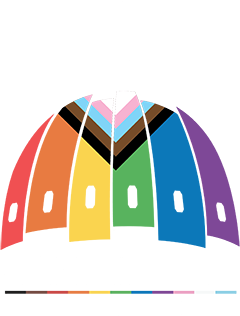 The Capital Pride Alliance, through its stewardship of diverse programming and events, specifically year-round LGBTQ+ Pride festivities centered in Washington, DC and the National Capital Region, serves to celebrate, educate, support, and inspire our multi-faceted communities in order to grow and preserve our history and protect our rights for current and future generations.
Learn More
Capital Pride Alliance
2000 14th ST NW STE 105
Washington, DC 20009
Directions