Honors those in public life who have shown courage and leadership in helping to advance the cause of LGBT rights
Honorable Eric K. Fanning
Mr. Eric K. Fanning was appointed 22nd Secretary of the Army by President Obama on May 18, 2016.
As Secretary of the Army, he has statutory responsibility for all matters relating to the United States Army: manpower, personnel, reserve affairs, installations, environmental issues, weapons systems and equipment acquisition, communications, and financial management.
More About Eric Fanning
Prior to this appointment, President Obama designated Mr. Fanning as Acting Secretary of the Army, where he served from November 3, 2015 – January 11, 2016, and before that was designated Acting Under Secretary of the Army and Chief Management Officer on June 30, 2015. He served as the Secretary of the Army's senior civilian assistant and principal adviser on matters related to the management and operation of the Army, including development and integration of the Army Program and Budget. As Chief Management Officer (CMO) of the Army, he advised the Secretary on the effective and efficient organization of the Army's business operations and initiatives for the business transformation of the Army.
Mr. Fanning previously served as The Special Assistant to the Secretary and Deputy Secretary of Defense. He helped manage Secretary of Defense Carter's transition, built his leadership team, and oversaw the day-to-day staff activities of the Office of the Secretary of Defense.
From April, 2013 until February, 2015, he served as the 24th Under Secretary of the Air Force. As Under Secretary and Chief Management Officer of the Air Force, he oversaw an annual budget of more than $110 billion by serving as co-chair of the top Air Force corporate decision making body, the Air Force Council, and also led the Air Force Space Board, the Air Force Energy Council, the Force Management and Development Council, and numerous other Air Force decision-making bodies.
From June, 2013 through December, 2013 Mr. Fanning served as Acting Secretary of the Air Force.
From 2009 to 2013, he served as the Deputy Under Secretary of the Navy/Deputy Chief Management Officer. In this role, he led the department's business transformation and governance processes and coordinated several efforts to identify enterprise-wide efficiencies.
From 2008 to 2009, Mr. Fanning was Deputy Director of the Commission on the Prevention ofWeapons of Mass Destruction Proliferation and Terrorism, which issued its report in December of 2008. He joined the commission staff from CMG, a strategic communications firm, where he was managing director. From 2001 to 2006, Mr. Fanning was Senior Vice President for Strategic Development at Business Executives for National Security, aWashington, DC- based think tank, where he was in charge of international programs and all regional office operations in six cities across the country. He traveled to more than 30 countries, mostly in Africa, the Middle East and Europe, including multiple trips to Iraq and Afghanistan.
Prior to joining BENS, Mr. Fanning was at Robinson, Lerer & Montgomery, another strategic communications firm. From 1997 to 1998, he worked on the national and foreign assignment desks at CBS National News in New York. From 1991 to 1996, he worked in various political positions in Washington, D.C.: he was a research assistant with the House Armed Services Committee, a special assistant in the Immediate Office of the Secretary of Defense, and Associate Director of Political Affairs at theWhite House.
Mr. Fanning is a graduate of Dartmouth College.
Each year, Capital Pride Alliance designates as Heroes those individuals who have furthered the causes important to DC's LGBTA community. These heroes have brought about positive changes to our lives and our community.
Bishop Abrams adopted Detroit, Michigan as her hometown, but she was born and raised in Birmingham, Alabama. She established deep roots in Detroit, where she raised her three college-aged children and served as an elected official on the Oak Park School Board, seminary adjunct professor, Vice President of a local NAACP, Detroit Public Schools police chaplain,  and numerous other clergy community capacities.
More About Bishop Abrams
She became the youngest female called to pastor a historic Black Baptist Church in Detroit where she served for over five years as Senior Pastor. Bishop Abrams was consecrated bishop in April 2012 and serves as presiding bishop of Pneuma Christian Fellowship. One Sunday morning during worship at her Detroit parish, Bishop Abrams disclosed that she married the woman she loved and proclaimed her authenticity as an LGBT bishop. Due to her proclaimed status, Bishop Abrams later resigned her position as senior pastor of her Detroit church to walk in her authenticity.  After much discrimination, hatred, and heterosexual bullying, Bishop Abrams relocated to the Washington, DC area and founded a radically inclusive ministry that celebrates all of God's children. Empowerment Liberation Cathedral was founded in May 2014.
Bishop Abrams graduated from Howard University with a Bachelor of Science Degree in Mechanical Engineering. She then attended Miles College Law School for two years before accepting her call to ministry.  She received a Master of Divinity in 2000 from United Theological Seminary, and her Doctor of Ministry from United Seminary in 2005.  Bishop Abrams is the author of three books.
Bishop Abrams has served the Washington, D.C metropolitan community in numerous ways. By founding Empowerment Liberation Cathedral, she has re-opened the doors of the church for many in the LGBT community who have been wounded by the mainstream church. As part of her social justice advocacy she has served on numerous boards, taught about spirituality and sexuality, and spoken about diversity and inclusion, and championed marriage equality nationwide.
Bishop Abrams has spoken for Black Pride, NBJC, The National Gay and Lesbian Task Force Summit, Anne Arundel Community College, and others. Bishop Abrams and Empowerment Liberation Cathedral have been acknowledged as being a voice for the voiceless.  Bishop Abrams is married to Bishop Emeritus Diana Williams and they have 3 adult children.
Peter D. Rosenstein was born and educated in New York, taught public school in Harlem, and worked as an aide to Rep. Bella Abzug (D-NY).  He was Coordinator of Local Government for the NYC Mayor's Office and executive director of the White House Conference on Handicapped Individuals/Implementation Unit in the Carter administration.
More About Peter D. Rosenstein
Afterwards, he spent 35 years as CEO of national associations in the healthcare and education areas.  Peter left the association field last year and opened PDR & Associates a consulting firm. He has lived in D.C. since 1978 and for decades has been a prominent community and LGBT rights activist in D.C. and Rehoboth Beach where he also has a home.
Peter worked with and inspired generations of activists in D.C. He's smart, committed and professional, working within the government to bring about change for D.C.'s LGBT community. He has a long commitment to racial justice and women's rights and brought those lessons to bear on D.C.'s LGBT rights struggle, playing a lead and integral role in bringing marriage equality to the city years before the Supreme Court ruled in favor of such rights nationwide. He's been active for years in local and national political campaigns and is a generous supporter of the arts in the city. Peter is tireless, devoting countless hours to local charitable groups like Whitman-Walker Health and ARTS in ACTION, while working as a columnist on LGBT topics for the Washington Blade, and writing for the Huffington Post and Georgetown Dish. Peter is passionate, generous and devoted to the city and especially to its LGBT residents. Peter has a long record supporting the LGBT community, including advocating for LGBT issues while working as the issues chair or co-chair for a string of D.C. mayors and mayoral candidates.
Peter's accomplishments include: President/founder ARTS in ACTION; former Community Board Member, Whitman-Walker Health; founding board member, Media Matters; former Vice-chair UDC Board of Trustees; founding member and president, Campaign for All D.C. Families, which led fight for marriage equality; Issues chair, Jarvis for Mayor, 1990; Co-chair Issues Committee, Schwartz for Mayor, 1994; Issues co-chair, Anthony Williams for Mayor, 1998 and 2002; Issues chair, Fenty for Mayor, 2006; Member, Obama 2008 National LGBT Steering Committee; Finance committee member, Hillary for America 2016.
Beyond being a staple of the DC-area's Black LGBTA community, Rayceen Pendarvis is known in many circles, transcending geography, ethnicity, color, orientation, and generation. Rayceen was part of the inaugural DC Black Pride, has been emcee of multiple pride festivals and events, was an activist early in the fight against HIV/AIDS, and served as an openly gay elected ANC Commissioner at a time when such a thing was unheard of.
Rayceen Pendarvis
In addition to providing a safe space for LGBTA people to connect, Rayceen uses "The Ask Rayceen Show" as a monthly forum for discussions about issues impacting LGBTA people. Rayceen is the "Queen of the Shameless Plug" due to more than self-promotion; the show is a vehicle for LGBTA businesses and organizations to gain attention. Rayceen may enjoy being in the spotlight, but it is always generously shared with others.  "The Ask Rayceen Show" itself is a labor of love, for which the host not only receives no financial gain, but incurs various costs and expenses. Rayceen uses the show and other Team Rayceen events as platforms for fostering understanding for marginalized people and educating the community, while also showcasing local talent and highlighting the work of non-profit organizations.
Along with hosting duties, performances, and work with various organizations, Rayceen has advised, counseled, and comforted countless people. For years, Rayceen has hosted and made appearances at events to help bring them needed attention, often without compensation.  Over decades of service to our community, Rayceen, a lifelong Washingtonian, has earned the moniker "The Goddess of DC."
Rayceen Pendarvis, Team Rayceen, and "The Ask Rayceen Show" are on Twitter, Instagram, and Facebook.
Kathleen Matthews is a true progressive and has been a lifelong advocate for equality and human rights in her community and throughout her career as a journalist, business executive, and most recently as a candidate for U.S. Congress. Growing up in the San Francisco Bay Area, she graduated from Stanford University in 1975 and moved to Washington, D.C. to start her career as a journalist.
More About Kathleen Matthews
For 25 years, Kathleen was a reporter and news anchor at WJLA-TV where she covered education, women in the workplace, and the fight for LBGT equality, including the first Pride Day celebrations.  In 2006, she went to work for Marriott International as Executive Vice President for Global Communications and Public Affairs, and it is her work as a business leader that makes her a true Hero. While at Marriott, Kathleen fought for equality around the globe and developed partnerships to train and mentor women and disadvantaged youth for hotel careers in Rwanda, Haiti, India, and around the United States. She was an outspoken advocate for LGBTQ recognition and equality. She served on Marriott's Global Diversity and Inclusion Council where she led Marriott's efforts to join amicus briefs to repeal DOMA and support marriage equality. Under her leadership, Marriott lobbied for passage of ENDA, immigration equality, and other anti-discrimination legislation. These efforts enabled Marriott International to score a 100 percent on the HRC's Corporate Equality Index. In her 2016 campaign for U.S. Congress in Maryland, she was an outspoken advocate for LGBTQ rights, including expanding transgender Americans' protections through a federal Equality Act that mirrors Maryland's version. She believes that LGBTQ discrimination is an international human rights issue and the U.S. should incorporate that principle into our foreign policy and diplomacy. Kathleen and her husband Chris have three grown children: Michael, Thomas, and Caroline. They live in Chevy Chase, Maryland. She is active in her community and on national issues, and has served on many boards including Ford's Theatre, Shakespeare Theatre Company, Suited for Change, and the Black Student Fund.
Each year, Capital Trans Pride, of the Capital Pride Alliance, recognizes individuals who are outstanding supporters, advocates, and activists of the transgender Community.  These Engendered Spirits have brought about positive changes to our lives and our community.
Since her arrest for the "crime" of being transgender in 1983, Jeri Hughes has been an outspoken advocate for all human rights. Although the focus of her fight has centered around the struggles faced by the transgender community, she has extended her efforts to embrace the LGBT community and basic human rights in entirety.
More About Jeri Hughes
Ms. Hughes was among the first to promote direct action within the community to expand the existing domestic partnership laws into full blown marriage equality. She actively participated in the fight to repeal DADT.
Ms. Hughes initiated and filed the complaint against the DC Department of Corrections with the Office of Human Rights, while simultaneously engaging the collective LGBT community to participate, resulting in shift of DOC policy respecting the rights and dignity of transgender prisoners.  Ms. Hughes participated with the effort to reform policy within the Metropolitan Police Department, resulting in a new General Order respecting gender identity and expression.
Working completely alone in 2009, Ms. Hughes initiated the effort to reform the discriminatory employment practices targeting the transgender community. Her efforts, again, engaged the entire community to participate, resulting in open discussion and the creation of a Transgender Cohort within the Project Empowerment program. She continues in this effort, and is currently employed as a Workforce Development Specialist at the American Job Center Headquarters. Jeri never fails to support the community and individual trans people who come across her path when she is in a position to assist them. She regularly uses her network to connect trans people to employment opportunities whenever she can.
Over the years, Ms. Hughes has volunteered and worked for several organizations including Helping Individual Prostitutes Survive (HIPS), the Anacostia Watershed Society (AWS), Transgender Health Empowerment (THE), the National Center for Transgender Equality (NCTE), and the International Foundation for Gender Education (IFGE). She is a long time and active member of the Gertude Stein Democratic Club and the Gay and Lesbian Activists Alliance. (GLLA).  She also volunteers her time at the DC Center co-facilitating the Center Careers Program where she uses her professional skills to assist LGBT job seekers and help connect them to available resources in the District.
Ms. Hughes lives in the Petworth neighborhood of Washington, D.C.
Julius Agers is a Two-Spirited and Transgender Advocate who is currently living in Washington D.C.  Throughout his life he has dedicated himself to volunteerism and civil service with a focus on improving the health and well-being of the LGBT community. Before moving to Washington D.C. he was a volunteer in Minneapolis for several organizations, including The Aliveness Project HIV Community Center and The Minnesota Aids Project (MAP).
More About Julius Agers
He participated in "The Honor Project" – a groundbreaking harm-reduction and needs assessment study of Two-Spirited and LGBT people of American Indian heritage developed by the Indigenous Peoples Task Force along with The University of Washington. Julius also worked on a variety of political campaigns in Minnesota to help elect Pro-Equality candidates to public office. After moving to D.C. he worked on the 2008 election campaign where he focused on volunteer recruitment and political organizing to support President Barack Obama. Julius later served as Vice-President of Political Affairs for The Gertrude Stein Democratic Club. Passionate about the rights of all District residents, Julius is a stalwart advocate for full voting representation in Congress and full control over local affairs. He currently works at the D.C. Fire and EMS Department (Office of The Fire Chief) and serves on Mayor Bowser's LGBTQ Advisory Committee.
For exemplary contributions to Pride in the national capital region.
Chelsea Bland is a young worker and proud union member working to leave her mark on the labor movement. She is a strong advocate for LGBTQ rights and for supporting spaces of intersectionality within the labor movement. With her union, the Office and Professional Employees International Union (OPEIU) Local 2, she serves as the LGBTQ committee chair.
Chelsea Bland
Through this committee she is committed to creating awareness, educating union members about the challenges facing LGBTQ folks on the job, and sharing the role unions can play in ensuring workplaces are safe, accessible, and inclusive. In her community service work with OPEIU Local 2, she was part of a team that received the 2014 Metropolitan Washington Council, AFL-CIO Thomas M. Bradley Community Services Award.
Chelsea also serves as the volunteer co-producer for the Capital Pride Alliance. She has volunteered with the organization since 2012, and stepped into the volunteer co-producer role in 2015. With Capital Pride, she enjoys meeting new volunteers, connecting with other producers on their projects, and the hustle and bustle of being a part of one of the largest pride celebrations in the country. Chelsea loves Capital Pride's Have Pride 365 campaign that focuses on sharing what the community has pride in each and every day.
During her day job she works as a communications specialist at the American Federation of Government Employees (AFGE). She assists AFGE members with media outreach, captures organization events through photos, and trains AFGE members on storytelling. She is also a union steward, representing the hardworking staff at AFGE.
Beyond the daytime job, union activism, and Capital Pride, Chelsea is also a freelance photographer. She enjoys capturing personal portraits, social justice events, and sunsets. Some of her work has been featured in Tagg Magazine.
Chelsea was born in North Carolina and raised in Maryland. She earned a degree in broadcast journalism at the University of Maryland (Go Terps!) and currently resides in Arlington,VA.
Michael Creason is a Nationally Certified Sign Language Interpreter and is thrilled to be receiving the Bill Miles Award.  Michael began his involvement with the Deaf community beginning with his studies of American Sign Language in 2005.  In 2009 he received his first certification.
Michael Creason
Michael works full time as a sign language interpreter.  In 2012, he volunteered with Capital Pride for the first time and has been involved ever since.  In 2013, Michael assumed his current position as Producer of Accessibility for the Capital Pride Alliance.  Michael not only coordinates services for all Capital Pride Alliance events, but he also donates many hours of interpreting services himself at these events.  Since he began his role, Capital Pride has expanded its services to include individuals with disabilities.  In addition, Capital Pride now provides interpreting services for many LGBT organizations around the DC area including Youth Pride, DC Leather Pride, and the Cherry Fund.  It is Michael's sincere pleasure to receive this award and thanks the members of the Capital Pride Alliance Board and Executive team for their unwavering support and commitment to back him in his goal to make Capital Pride the most accessible celebration in the country.
Photo Credit: Denis Largeron
Denis Largeron (Due-Knee Lar-Ja-Ron) creates custom photography for fabulous people.  Specializing in weddings and events, Denis fuses a photo-journalistic style with editorial flair and a passion for enlightening the emotion of the moment. Learn more at www.denislargeron.com.
*2016 Heroes photos credit Denis Largeron except Chelsea Bland and Kathleen Matthews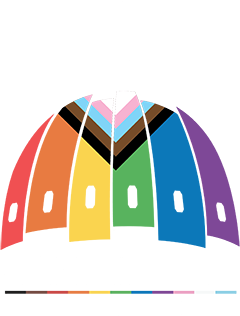 The Capital Pride Alliance, through its stewardship of diverse programming and events, specifically year-round LGBTQ+ Pride festivities centered in Washington, DC and the National Capital Region, serves to celebrate, educate, support, and inspire our multi-faceted communities in order to grow and preserve our history and protect our rights for current and future generations.
Learn More
Capital Pride Alliance
2000 14th ST NW STE 105
Washington, DC 20009
Directions